schellibie and I, on a whim, ended up talking about her concept of a Marching Band AU (henceforth referred to as "marchingstuck" because Shelby hasn't given me a better name HURRY UP SHELBY). A couple hours later, this shambled out our mental birth canals as a malformed, partly-illustrated monster, with the most inane and beautiful AU setting of all time. This will only prove appealing to people who have been in marching band or people who have played instruments. (NOTE TO ORCHESTRA KIDS: THERE IS A RUDE LINE ABOUT ORCHESTRAS. WE KNOW IT IS TRUE)

Welcome to the world of Marchingstuck, which is like Mr. Holland's Opus if Mr. Holland was Jack Noir and his opus was drinking heavily and making shows about death while Karkat Vantas plays the sousaphone. Warning: this is long, is thankfully mostly depicted visually by Shelb ETA: AND A NUMBER OF BRILLIANT, KIND PEOPLE, read the alt text if you want to know who did what, and contains licking other people's reeds.



shelby: god karkat would be such a musical theater person
t_ZM: he really, really would
shelby: marching band would work too i made a whole marching band AU once
t_ZM: OH MY GOD
t_ZM: TELL
shelby: okay
t_ZM: BECAUSE HE PLAYS TUBA IN THE MANHATTAN AU
shelby: HE PLAYS SOUSAPHONE
t_ZM: SOBBING
shelby: Eridan is in color guard
t_ZM: oh god he so is
shelby: because he thought it would make him popular with the ladies
shelby: (it doesnt)
t_ZM: (ever)
shelby: fef is color guard captain
shelby: john the doofy ineffective drum major
t_ZM: i am pretending he is the only guy in colour guard
t_ZM: YES
t_ZM: TOTALLY
shelby: rose is the assistant drum major who actually gets shit done
shelby: and yes eridan is the only guy in color guard
shelby: jade is a piccolo
shelby: dave is on drumline
shelby: uhhh lesseeeee who else
shelby: vriska plays trumpet
shelby: terezi plays saxophone and licks all over her reeds
t_ZM: OH GOD
t_ZM: THAT IS DISGUSTING
t_ZM: AND SO TRUE
shelby: YES
shelby: i forgot what kanaya was aughh
t_ZM: I am dying laughing
t_ZM: You don't even understand how amazing this is
t_ZM: I love ridiculous, nerdy AUs that only a very specific set of people enjoy
shelby: tavros is that guy in pit who like, plays the triangle
t_ZM: YES
t_ZM: HE HANGS WITH THE PIT PERCUSSIVES
t_ZM: IE
t_ZM: DREGS OF HUMANITY
t_ZM: THE MORLOCKS
shelby: karkat tried so hard to be drum major but he flapped his arms around way too violently
t_ZM: yeah karkat just got
t_ZM: relegated
t_ZM: to the sousaphone
t_ZM: i'm just like who let john be drum major
shelby: he was very charming
shelby: JACK NOIR THE BAND DIRECTOR
shelby: OH MY GOD
t_ZM: LASDNLA
t_ZM: ALDNKSLADN
t_ZM: ALNKSDLADNKANDLAS
t_ZM: you little bastards will make it to the interstate or i'll slit your miserable throats
shelby: MIDNIGHT CREW STAFF.





shelby: vriska is totally that trumpet player who plays obnoxiously loud
t_ZM: SHE'S SO BRASS
t_ZM: AND SO OBNOXIOUS
t_ZM: AND FIGHTS WITH TEREZI
shelby: oh my god our saxs and trumpets were THE MOST OBNOXIOUS SECTIONS
shelby: ITS SO TRUE
shelby: i wish i didn't hate drawing musical instruments
shelby: because i would illustrate this AU so hard
t_ZM: i wish i didn't have nineteen projects
t_ZM: because i would write this AU
shelby: if you just wrote like 100 words of this AU it would be enough for my heart
t_ZM: quietly puts it in the list of things to do
shelby: ahjkhdfdsjfhsdjfkh


t_ZM: i can't stop watching bitchy trumpet players
shelby: oh my god
shelby: link
t_ZM: and imagining vriska and john jamming
shelby: what instrument would john play
shelby: when he's not derp majoring
t_ZM: WELL HE'S A PIANIST, BUT HE NEEDS A MARCH INSTRUMENT
t_ZM: what translates
t_ZM: jenn and i always joke
t_ZM: that he can also play the accordion
t_ZM: but
shelby: jkahfjahfsdkjfhdf
t_ZM: LOOK IT'S SUCH A JOHN INSTRUMENT
shelby: IT IS
t_ZM: gdi I want to say like, CLARINET or something
shelby: THAT'S WHAT I WAS ABOUT TO SAY
shelby: that's what i played in concert band
t_ZM: klsnfklsnf
t_ZM: PERFECT
shelby: wait so does karkat play the tuba in concert band or something else completely and he was forced to switch
t_ZM: what in marching band
shelby: well sousaphone, but what if he played like... french horn or something idk
shelby: OR
shelby: BASSOON
t_ZM: BASSOON
t_ZM: OH MY GOD
t_ZM: OH MY GOD
t_ZM: SO SECRETLY KARKAT IS ACTUALLY EXCELLENT
shelby: YES
t_ZM: in Manhattan AU at his and Rose's snotty private school they're in orchestra together and they're such snots
shelby: oh yes, ORCHESTRA KIDS
t_ZM: orchestra kids are all assholes
shelby: I KNOW.
shelby: I KNOW.
t_ZM: but he plays a cello that makes him look even tinier
shelby: karkat is only allowed to play giant instruments that make him look tiny
shelby: but he thinks it's badass
t_ZM: yes
t_ZM: yes
t_ZM: nothing else
t_ZM: BEHOLD MY BASSOON, FOOLS
shelby: NO ONE CARRIES AS MUCH WEIGHT AS I DO ON THE FIELD!!!!
shelby: dave plays the tenor drums which looks 10000000x more badass than the sousaphone
t_ZM: yes
t_ZM: dave is like
t_ZM: marching band sex
shelby: he gets away with wearing his shades in uniform
t_ZM: also karkat tries to come up with
t_ZM: actual duets for him and jade to play with the piccolo and the bassoon
t_ZM: and they're fucking hysterical
shelby: jfksdghahhajahdajhahhaha
shelby: oh my god a bassoon and piccolo duet would be the actual worst
t_ZM: I AM WATCHING ONE
t_ZM: I AM
t_ZM: DYING
shelby: actually i could really see jade play the oboe in concert band
t_ZM: oh dude yes jade would rock the oboe
t_ZM: also it's an egbert-harley thing
shelby: yesssss
t_ZM: wait what does rose play in march when she's not being john's lieutenant
shelby: HMMMM
shelby: it's hard to imagine her as anything but violin
shelby: i am trying to think of what the classiest band instrument is but they are all pretty dorktastic
t_ZM: THEY REALLY ARE
shelby: maybe french horn?
t_ZM: yes
t_ZM: someone has to be that buffer in-between the brass and the sousa
t_ZM: to stop karkat exploding


t_ZM: so
t_ZM: the question is
t_ZM: what does equius play
shelby: .....
shelby: i wanna say, bass 5 or baritone because those are the STRONGEST instruments (to carry around anyways)
t_ZM: oh man excellent point
shelby: nepeta is 100% clarinet player
shelby: ahahahah gamzee is definitely a trombone player
t_ZM: YES
t_ZM: TROMBONISTS ALL INSANE
t_ZM: aradia has to have some dignity
shelby: HMMMM... Aradia could be a mellophone.
t_ZM: YES.
t_ZM: EQUIUS YEARNS FROM AFAR
t_ZM: THAT HE SHOULD HAVE THESE FEELINGS
t_ZM: FOR A DIRTY MELLOPHONE PLAYER
t_ZM: WHEREAS HE SITS ALOFT AMONGST THE OTHER BARITONES
shelby: sdjhfsfiufhsdkjhfvcm
shelby: i am just imagining aradia in the cutest shorts and kneesocks, chillin with the mellophones
shelby: Equius polishing his silver baritone.
shelby: god what.
t_ZM: i am howling at this image
t_ZM: she's so cute
t_ZM: and he is with the marching band royalty, right next to the euphoniums
shelby: adkagdagdahdg god he totally that guy who is like
shelby: STAY ON YOUR DOT
t_ZM: DYING
shelby: so is karkat, he's like THIS FORM LOOKS LIKE SHIT
t_ZM: so basically this is all whipped into shape by
t_ZM: karkat, rose and equius
shelby: DO YOU PEOPLE KNOW HOW TO DRESS YOUR LINES
shelby: APPARENTLY NOT.
t_ZM: and spades slick ceaselessly drinking
shelby: uhfdjshgfhjsdfs
t_ZM: MR. NOIR NEEDS HIS RELIEF JUICE FROM HOW BAD YOU SOUND
shelby: spades slick, disillusioned high school band director





t_ZM: he coulda been a contender
t_ZM: why didn't he get to go to bard quest high
shelby: he totally marched drum corps back in the day
shelby: kids dont understand
t_ZM: him and hearts and droog and clubs
shelby: snowman was the drum major. what a bitch.
t_ZM: FOREVER
t_ZM: BACK IN HIS DAY, THE HIGH SCHOOL BAND DIRECTOR WAS DOC SCRATCH
shelby: oh my GOD
shelby: he just loves working with children
t_ZM: It's his forte.
shelby: God he tells the worst music puns
t_ZM: YES
t_ZM: ALL THE TIME
shelby: totally deadpan
t_ZM: LIKE DREADFUL ONES
t_ZM: i'm imagining gawky teenage jack noir with braces going UGHGHHGHGH
t_ZM: WHY AM I DOING THIS!!!
shelby: Let's start this season on the right FOOT, shall we.
t_ZM: AUGH
t_ZM: Now, let's all break into song, if we can find the key.
t_ZM: Mr. Noir, please stop screaming.
shelby: Jack ended up as the band president
t_ZM: Ha ha, I always wanted to be a clarinetist... but I couldn't reed music.
t_ZM: jack's just weeping
t_ZM: yes
t_ZM: yes
shelby: hsdfjksdshdfkvcn
t_ZM: doesn't know how
t_ZM: probably because if he doesn't keep doing this
t_ZM: he'll get expelled
t_ZM: for what he's done to the other kids in the school
shelby: oh my GOD
shelby: and nowadays hes just like how did this become my life
t_ZM: he just wants to beat Snowman, who is the rival music director
t_ZM: shelby stop fleshing this out
t_ZM: stop it immediately
shelby: THIS IS MY CALLING


shelby: every year they have the darkest and weirdest shows and judges at competitions don't even know what to say
t_ZM: every
t_ZM: single
t_ZM: year
shelby: why aren't they doing a tribute to america
t_ZM: why was there blood
shelby: is the theme of this show..... clinical depression....?
t_ZM: LNASLDNALDNKANDK
t_ZM: look at least it's not Feferi's color guard guys
they are all insane and speak in festertongues
one semester rose broke and was in colorguard for six months
shelby: john bobbing up and down happily directing the band as the guard members are dropping dead
shelby: oh my god yes
shelby: her first year
t_ZM: dave all trying to snap her out of it
t_ZM: fuck egbert all she does is go on about oglogoth and drop spins this is killing me
t_ZM: oh no, drop spins??
shelby: hsfkjsdkshdf
shelby: they have an intervention
t_ZM: DROP THE FLAG
shelby: we care about you, rose.
t_ZM: Shruggoth.
rose, color guard isn't for you.
Hreth hreth NYURB'A.
you haven't slept for days and you're wearing weird outfits all the time.
shelby: fguhidfqiurejfdkgjfk
shelby: wearing dramatic eyeshadow
shelby: every day
t_ZM: all day every day
t_ZM: sees anything that looks like a stick, tries to grab it
t_ZM: feferi thinks color guard is ---EXCITING!!!
shelby: rose are you having troubles at home
shelby: oh yes Fef is the perfect guard captain
t_ZM: oh god
she just shoves eridan into whatever the girls are wearing because he's the only guy
t_ZM: so it's march eridan color guard
shelby: Now LADI-ES (and -Eridan) you )(ave to writ)(e on the ground DRAMATICALLY before you DI-E!
t_ZM: DYING
t_ZM: FOREVER
shelby: and yes Eridan is forever in drag
t_ZM: The flags are BLACK to represent our devotion to t)(e OUT-ER RING and its T-ERRIBL-E -EMPTIN-ESS!!!
shelby: hdsjfksfdhfjdfhs oh my god
shelby: they were doing a LOVECRAFT show that year
t_ZM: eridan doesn't even care any more
shelby: since he's the only guy they just expect him to be able to do all the lifts and stuff for them
shelby: but he is a wimp
t_ZM: he's totally a wimp
t_ZM: also that would fuck up his manicure
shelby: this isnt wwhat he wwas expectin
t_ZM: girls he spent like half a glubbin hour gettin them to look like this
t_ZM: fef can we make the routine a little more
-ERIDAN, I am not making the routine a little more sexy and that is FINAL!
shelby: Color guard isn't supposed to be GLAMOROUS!
t_ZM: Glub glub glub! It is a DARK DEVOTION.
shelby: It's supposed to be about RAW -EMOTION AND PAIN.
shelby: kjdsfhjksdfhsdkfjh
shelby: A DARK DEVOTION





t_ZM: how did they ever pry rose out of it



shelby: wait did we ever decide what Kanaya does
t_ZM: NO
t_ZM: OH GOD
shelby: she could be in guard just so she makes all of the outfits
t_ZM: YES
shelby: she is definitely on uniform crew
t_ZM: ALSO SHE'S A VAMPYRE SO IT WORKS
shelby: yes
shelby: she designs the makeup too
t_ZM: Do You Know How Difficult It Is Being Uniform Crew
t_ZM: No You Dont That Was Purely Rhetorical
shelby: Karkat I Cant Possibly Hem Your Pants Any More You Will Have To Grow Into Them
t_ZM: aldnfkld
t_ZM: alsdnfklslaf
t_ZM: he's having to
t_ZM: double
t_ZM: cuff
shelby: YES
t_ZM: KANAYA, IF ME AND THE SOUSAPHONE GO DOWN, YOU ARE ALL GOING DOWN. YOU HAVE TO UNDERSTAND THIS.
t_ZM: IT IS LIKE I AM CARRYING THE FUCKING HUMAN JESUS ON HIS HEAVY SOUSAPHONE CROSS.
shelby: I AM THE HEARTBEAT OF THIS BAND. THE LIFEBLOOD.
shelby: ahfkdjshdsf
t_ZM: I AM THE BAND. IT IS ME.
shelby: hkjfds
t_ZM: IN FACT THEY SHOULD JUST SEND ME IN THERE ALONE SO I CAN BLOW THEIR MISERABLE MINDS.
t_ZM: AND THEN I WON'T HAVE TO DEAL WITH TEREZI BEING OFF BEAT EVERY GODDAMN SECOND OF EVERY GODDAMN DAY.
t_ZM: Terezi has a list of Things I'm Not Allowed To Do In Marching Band.
shelby: Tjdkshfjkshsdfk
t_ZM: 1 4M NOT 4LLOW3D TO TR1CK THE DRUM M4JOR 1NTO H1S UNTIM3LY D34TH 4NY MOR3
shelby: one time she tricked john into falling off the podium
shelby: he was on crutches for weeks
t_ZM: he broke his ankle
t_ZM: she didn't realise he was going to fall that magnificently
shelby: it really is shame no one was filming it
t_ZM: jack drank so much that night
t_ZM: K3TCHUP DO3S NOT CL34N R33DS
shelby: true life story from shelby
shelby: one time i drank so much cherry soda during band camp
shelby: my reed turned pink
shelby: (it was a concert band camp)
t_ZM: THAT IS BEAUTIFUL
shelby: IT WAS HILARIOUS
shelby: terezi like, leaves things in the bell of her saxophone
t_ZM: YES SHE DOES
shelby: where they slowly rot
t_ZM: her whole section hates and fears her
shelby: no one wants to go near her case ever
shelby: oh and she is the section leader
shelby: Equius is Brass Captain
t_ZM: YES
shelby: karkat is so pissed he's not brass captain
shelby: but he had to switch to brass from bassoon so he's actually pretty sucky
t_ZM: KARKAT IS PISSED ALL DAMN DAY
t_ZM: he's not as good as he assumed he would be
shelby: kid just
shelby: play the damn oompas
t_ZM: oh mr. noir


t_ZM: dave doesn't head up marching percussion he's too cool
shelby: yes definitely
shelby: tavros's dream is to be on drumline but he sucks too much. aux percussion forever.
t_ZM: yeah he's stuck in the pit
t_ZM: but he idolizes dave
shelby: yesss
t_ZM: okay so terezi, vriska, equius, aradia, karkat are in the brass section shelby why am i thinking about this so hard
shelby: BECAUSE IT IS AMAZING
shelby: they have a show about gang violence
shelby: not about the dangers of gang violence
t_ZM: JACK SCRIPTED IT
t_ZM: NO
t_ZM: IT'S
t_ZM: PRO GANG VIOLENCE
t_ZM: You get five shows which are all set to music about how great Jesus is
t_ZM: and then
t_ZM: you've got the auxillaries celebrating shanks

shelby: TRUE LIFE STORY:
shelby: THIS. IS. MY HIGH SCHOOL BAND.
shelby: we did a show about the mafia
shelby: and we did a show about SCHIZOPHRENIA
t_ZM: DYING FOREVER
shelby: no, but like
shelby: we weren't
t_ZM: schizophrenia
shelby: that good
t_ZM: schizophrenia
shelby: so we couldn't quite pull it off.
shelby: SCHIZOPHRENIA.
t_ZM: no it sounds amazing.


shelby: so dave and terezi totally hooked up at a crazy band afterparty or something
t_ZM: dave was telling her offensive jokes about saxophone players
shelby: everyone is like REALLY, DAVE. /TEREZI./
shelby: he did it ironically. (it was not ironic)
t_ZM: (not even remotely)
t_ZM: like terezi is the most terrifying member and he could have anyone he wanted
t_ZM: the CHEERLEADERS want dave
shelby: terezi wears really tacky dragon print tshirts on a regular basis
shelby: after school her and vriska play DnD
shelby: every day
t_ZM: she has a level 16 dragon warrior
t_ZM: she also flarps
shelby: she goes to the renn faire
shelby: oh my god terezi at the renn faire
t_ZM: aldfknaslnf
t_ZM: alnkdfls
t_ZM: she doesn't GO to the ren faire.
t_ZM: she's PART of the ren faire.
shelby: YES
t_ZM: look terezi goes and duels, dresses up, and probably has a knight name
shelby: aradia does like all the same stuff but somehow still manages to be cool and popular
t_ZM: yes
t_ZM: because aradia's soft and pretty and peppy and sweet
t_ZM: and doesn't throw her instrument a birthday party
shelby: ljesgdyuvhoznjxlk ml
shelby: WHAT DID TEREZI NAME HER INSTRUMENT
t_ZM: OH GOD
t_ZM: OH COME ON
t_ZM: LIKE IT'S NOT PYR4LSP1T3
shelby: YES
shelby: everyone like what the fuck does that even mean
t_ZM: look
t_ZM: vriska named her trumpet fuckslayer
shelby: Yeah!!!!!!!!!
t_ZM: John, check it out!!!!!!!!
shelby: in between sets they just see who can obnoxiously blast the loudest
shelby: terezi has perfected the SQUAWK
t_ZM: I think they often compete to who can be the most irritating
shelby: john's just like ha ha okay guys time to get back to work?
t_ZM: ha ha ha
t_ZM: terezi please stop blowing water from your keys
shelby: BUT 1T N33DS TO BE CL34N3D >:[
shelby: they are just constantly in third place at every competition
shelby: no one understands the message were tryin ta put out there
t_ZM: other bands fear them
t_ZM: they're too good to NOT get third
t_ZM: but not good enough to get better
shelby: Judges comments: "The third movement, Bleeding Out, was hard to follow."
t_ZM: LASNDKAS
shelby: what is this horseshit
shelby: this competition is fuckin rigged
shelby: we wont be coming back to this school next year kids
shelby: also this is all your fault
t_ZM: kids i am not saying we failed because of you
t_ZM: i am saying we failed because of your complete fuckin incompetence and inability to do anything right
t_ZM: i am handing in my retirement
shelby: lsgdfjhsdgjfhgsd


shelby: oh god, everyone goes to jack about all of the stupid teen drama
shelby: even though he does not want to hear it
shelby: he hears about
shelby: everything
t_ZM: EVERYTHING
t_ZM: i do not give a shit about strider or pyrope
t_ZM: i do not care who is smooching who
shelby: he doesn't give a shit about who's smooching who
shelby: afhdfgsfgsdf
t_ZM: hahahaha
shelby: HAHAHAAHHA
shelby: for some reason everyone thinks he will be able to give them romantic advice
shelby: eridan is in his office constantly
t_ZM: everyone thinks somehow he will tell them what they need to do
t_ZM: ERIDAN HAS A LOT OF FEELINS
shelby: karkat isn't always there to listen to his woes
t_ZM: no.
t_ZM: so it's up to jack.
t_ZM: kid.
t_ZM: why are you still in your guard skirt.
shelby: ;ljkfshg
t_ZM: wwell yelloww is my powwer color
shelby: he can't figure out why neither the girls nor the guys want him
shelby: jack's like probably because youre a little piece of shit
t_ZM: yes
shelby: its not about looks, kid. its about whats inside.
t_ZM: I LOVE HOW JACK ENDS UP GIVING HIM ADVICE
shelby: HE ALWAYS ENDS UP GIVING ADVICE
shelby: SOMEHOW
t_ZM: HE HATES HIMSELF
t_ZM: karkat would appreciate the heat being taken off
t_ZM: he hates their drum major so much.
shelby: jkhkfkdhdksha
shelby: jack's like oh for christ's sake just ask the kid out to a fuckin movie and stop whining to me
t_ZM: WHAT THE HELL IS MR. NOIR TALKING ABOUT, HE IS TRYING TO OUTLINE HIS REASONS AS TO WHY JOHN SHOULD BE DROPPED FROM BAND IMMEDIATELY.
t_ZM: HE HAS A FUCKING POWERPOINT.
t_ZM: kid one of your points is that his eyes are too blue
t_ZM: THEY ARE!





shelby: he has video evidence of his terrible form
shelby: you... filmed this from the field
shelby: how

shelby: but what are their school colors
shelby: they have the worst uniform, it is like, from the 70s
t_ZM: what's something dreadful
shelby: well, my school was red white and blue
shelby: and we really did have a super outdated uniform
shelby: they can be like
shelby: purple and gold
t_ZM: yes
t_ZM: kanaya has SUCH a headache
t_ZM: oh god
t_ZM: they all look like
t_ZM: the OK GO uniforms
shelby: How Am I Even Supposed To Work With This
shelby: OMG
shelby: YES
t_ZM: These Colors Are Flattering On Nobody
shelby: THAT IS WHAT OUR UNIFORMS LOOKED LIKE
shelby: EXCEPT NAVY BLUE AND RED
shelby: we were like the most... rag-tag band of misfits
shelby: i love this music video tho
shelby: omg dave writes the most awesome arrangements for stands tunes
t_ZM: YES HE DOES
shelby: everyone in the school is like why is dave strider in marching band
t_ZM: they don't know
t_ZM: he says he's there ironically
t_ZM: truth is
t_ZM: bro, mom and dad were in marching band in their generation
t_ZM: dave's following in bro's footsteps
shelby: YES bawww
t_ZM: dave strider is the single coolest member of marching band and the day he macks on terezi at a band party is SCANDAL DAY
shelby: karkat has so many things to say about this
shelby: he is the one who goes to jack first
t_ZM: it's part of a powerpoint
shelby: CAN'T WE REGULATE THESE PARTIES SOMEHOW
t_ZM: BAN THIS IMMEDIATELY.
t_ZM: IT IS BAD FOR MORALE, AND ALSO DISGUSTING.
t_ZM: I WANT YOU TO IMPLEMENT MY RULE AGAINST FRATERNIZATION IN THE BAND.
t_ZM: I DON'T JUST WANT A DON'T ASK DON'T TELL POLICY.
t_ZM: I WANT IT WIPED OUT!
shelby: khdfsjdfshfsjfhd
shelby: IT'S GOING TO TEAR THIS BAND APART
t_ZM: kid are you saying you want a blanket ban on smooches
t_ZM: YES. THAT IS EXACTLY WHAT I AM SAYING.
t_ZM: done
t_ZM: but your rule
t_ZM: you implement it
t_ZM: YOU WILL NOT REGRET THIS.
t_ZM: already do
shelby: oh my god
shelby: karkat becomes the chaperone at school dances
t_ZM: stops band members dancing with each other, diverts them
shelby: HANDS WHERE I CAN FUCKING SEE THEM
t_ZM: equius just sweats more now that his forbidden love for aradia has become banned
shelby: kjhdfhu3wed
t_ZM: ONE FOOT APART, ASSHOLES
shelby: imagine the SCANDAL
t_ZM: PYROPE KEEP YOUR TONGUE IN YOUR MISERABLE SAW-TOOTHED MOUTH
t_ZM: VRISKA AND TEREZI STOP MAKING OUT YOU ARE DOING IT JUST TO ANNOY ME!
shelby: there is a point in the drill where they are right in front of karkat
shelby: and when they're setting up they're just like BALRRUGHHSH tongues everywhere
t_ZM: karkat is screaming
shelby: karkat can't do anything because that would mean breaking the form
shelby: also he can't move very fast with his sousaphone
shelby: it's like twice his size





shelby: oh my god terezi was totally karkat's M1DDL3 SCHOOL G1RLFR13ND
t_ZM: YES
t_ZM: TOTALLY
t_ZM: THEY WERE MIDDLE SCHOOL MATESPRIT OTP.
shelby: they were together for a whole 3 months
shelby: that is a BIG DEAL
t_ZM: that's a goddamn marriage
t_ZM: in middle school terms
shelby: karkat was so proud of himself
t_ZM: yes, he was a mature fucking adult unlike the rest of these wrigglers
t_ZM: and he and terezi were probably going to get married and own residential property
t_ZM: do taxes, eat pancakes at 3 AM
shelby: they didn't even kiss
t_ZM: adult stuff
t_ZM: no
t_ZM: just held hands
t_ZM: though they held hands ALL THE TIME
shelby: one time he tried to kiss her and he missed and awkwardly hit her ear
t_ZM: ankdflksna
t_ZM: lknsklfs
t_ZM: he tried to pass it off as an ear kiss
shelby: he's not sure if he should count that as his first kiss or not
t_ZM: no
t_ZM: it was on her ear
t_ZM: her ear is nice, but
shelby: 1T H4S TO B3 L1P ON L1P 4CT1ON
shelby: things got weird and terezi broke up with him after 8th grade formal :'(
t_ZM: :(((((((((((((((((((((((((((
t_ZM: :((((((((((((((((((((((
t_ZM: it was the middle school tragedy
t_ZM: everyone talked about it for a month
t_ZM: hushed voices
t_ZM: treated karkat like a man in mourning
t_ZM: hey guy do you want... a fresca
shelby: iuergfhdckjx
shelby: everyone thought they were going to be together furrever :((
t_ZM: karkat too broken to even yell
t_ZM: YEAH I. I JUST. I THINK I NEED A FRESCA.
t_ZM: nepeta is in such deep grieving
t_ZM: karkat is just trying to struggle through it
t_ZM: YOU KNOW WHAT TEREZI PYROPE I CAN MAKE IT ON MY OWN
t_ZM: YOU CAN'T HURT ME ANY MORE
shelby: eating ice cream on the couch
shelby: wrapped in blankets
t_ZM: watching troll matthew mcconaughey
shelby: yes
t_ZM: sobbingly calling eridan
shelby: they didn't talk for like, a whole year
shelby: until halfway through ninth grade
shelby: now they're cool though
shelby: they put their tragic past behind them
t_ZM: adflknasdflknsal
t_ZM: klnskldnfas
t_ZM: that's adorable
shelby: but it doesn't mean he's cool with her making out with Serket during set 40 EVERY DAMN DAY
t_ZM: RUINING THIS BAND.
shelby: WE HAVE A REPUTATION TO UPHOLD
shelby: oh and terezi like, never wears a shirt during summer band camp
t_ZM: asdlfknasnfa
t_ZM: knaslfd
t_ZM: does she just go around in a bra???
shelby: yes
shelby: (i did that too)
t_ZM: dying
shelby: sports bra
t_ZM: by the end of summer band camp a significant amount of people are just down to their underwear
shelby: jade is like hey that looks like fun!!!
t_ZM: standing there
t_ZM: yes
t_ZM: terezi, jade, feferi
t_ZM: vriska, not to be outdone, joins in
t_ZM: eridan is not letting anyone strip without him on this watch
shelby: most guys go shirtless but karkat never ever does WHAT DO YOU TAKE HIM FOR
t_ZM: SOME KIND OF LASCIVIOUS BUCKET SLUT?
shelby: hfghgjk
shelby: also he totally has braces
shelby: for like, all of high school
t_ZM: ALL OF HIGH SCHOOL.
t_ZM: SERIOUS BRACEFACE.
t_ZM: john, jade and karkat all have braces
t_ZM: john and jade regularly call each other up and wear the same colour elastics
shelby: YES
shelby: john forgets to wear his retainer and his teeth just slide back to where they were before
t_ZM: yes
t_ZM: all the time
t_ZM: he is so bad at it
shelby: eventually he just decides OH WELL and it was all a waste of tons of money
shelby: orthodontists cannot break the egbert-harley dental vendetta
t_ZM: no, their teeth are the Unbreakable of orthodontics


shelby: one time john and karkat kissed and their braces got stuck
t_ZM: YES
t_ZM: look i was trying to be subtle all
t_ZM: "so i ship marchingband john and karkat"
t_ZM: "maybe shelby doesn't...."
shelby: why would i
shelby: not
t_ZM: "maybe i shouldn't mention it......."
t_ZM: this is my thought process
shelby: i was trying to be subtle too negl
shelby: my life
shelby: BUT YES I SHIP MARCHING BAND JOHN AND KARKAT
t_ZM: NO LOOK KARKAT IS IN LOVE WITH THE DREADFUL DRUM MAJOR AND NOBODY CAN EVER KNOW
t_ZM: NOBODY!!
t_ZM: HE HAS LOVED HIM EVER SINCE THEY WERE THIRTEEN AND JOHN LOOKED LIKE GOD HAD SPILLED A PERSON
shelby: he gets so pissed at terezi after john breaks his ankle and pretends it's for a different reason
t_ZM: he saw a
t_ZM: bee.
t_ZM: he is so allergic to bees.
t_ZM: he just swells up and dies like macaulay culkin in my girl.
shelby: he could have DIED
t_ZM: karkat so broke formation at john's beautiful swandive
t_ZM: also john egbert once he hits 17 is radiantly beautiful y/n
t_ZM: just with teeth y/n
shelby: y
shelby: his eyes are SO BLUE
shelby: IT'S DISGUSTING
t_ZM: john's eyes are that blue on purpose
t_ZM: karkat is john's buddy
t_ZM: john thinks karkat is adorable
t_ZM: and often literally says
t_ZM: "ha ha karkat is adorable"
shelby: his double cufffed pants are hilarious and adorable
t_ZM: he is tiny
t_ZM: and his sousaphone makes him tinier
shelby: it also gives him a slouch even though he TRIES to have perfect posture in marching band UNLIKE ALL OF YOU LAZY FUCKERS
t_ZM: HE IS BUFF.
t_ZM: GETTING BUFFER.
t_ZM: HE WENT FOR A RUN WITH EQUIUS THIS MORNING.
t_ZM: john is always relaying "cute things karkat has said"
shelby: aahahahahah


shelby: karkat is so adament that MARCHING BAND IS A SPORT
shelby: I AM AN ATHLETE.
t_ZM: afldknas
t_ZM: alskndfnaf
t_ZM: lknlafds
t_ZM: HE COULD HAVE DONE FOOTBALL.
t_ZM: oh man
t_ZM: oh man
t_ZM: we forgot sollux
t_ZM: what does SOLLUX play
shelby: !!!
t_ZM: maybe he's also in the drumline
shelby: you know for some reason i see him as a trumpet guy and idk why
t_ZM: bein' cool
shelby: sollux does all the band camp video documentaries
shelby: and edits them so everyone looks so stupid
shelby: (that is also what my sister does in marching band)
shelby: he goes around interviewing each section during band camp
t_ZM: YES
t_ZM: HE'S THE WORST, LEAST ENTHUSIASTIC JOURNALIST
t_ZM: 2o tell me about your experiience2.
TOD4Y 1 L1CK3D 3V3RYON3'S MOUTHP13C3S WH3N TH3Y W3R3 NOT AROUND
fa2ciinatiing.
shelby: gdsfhgahdga
shelby: god i just want
shelby: that documentary
shelby: karkat goes off on a rant about how horrible john is, who let him be drum major anyways,
shelby: for like 7 minutes
shelby: that sollux doesn't cut down
t_ZM: oh god
t_ZM: i
t_ZM: am
t_ZM: dying
t_ZM: because it's basically the best rant
t_ZM: of all time
t_ZM: in the background terezi and vriska are making out shirtlessly trying to photobomb
shelby: sollux just asked him how the sousaphone section was holding up this year after losing a ton of previous members who graduated
shelby: terezi and vriska are making out shirtlessly in the background of almost every shot
t_ZM: yes
t_ZM: yes
t_ZM: yes
t_ZM: yes, sollux asks unbelievably boring questions that somehow get really in-depth replies
shelby: so jade what ii2 iit liike playing the mo2t retarded iinstrument iin the entiire band?
t_ZM: aldkbnlsnfkl
t_ZM: aldfknaslnfksa
t_ZM: fuck you too, sollux!!!!
t_ZM: god!!!
shelby: rude!!!!
t_ZM: i have had it up to here with trumpet players!!!!!
shelby: this is WAR!
shelby: then the video cuts off
t_ZM: do you hear me? WAR! D:<
t_ZM: why is this the best AU.
shelby: it is probably only the best to band kids
shelby: but
shelby: it is the best AU
t_ZM: it's just so unbelievably, wonderfully inane.
t_ZM: eridan is shirtless but also wearing a bra he has stuffed
shelby: oerihtg874trefhu
t_ZM: for some reason so is dave
shelby: ;uhgfisafdcj
shelby: sometimes dave gets the entire drumline to come to practice in pink short shorts
t_ZM: terezi keeps on grabbing dave's boobs
t_ZM: whoa easy on the tatas there pyrope
shelby: dhfjskdsdfhj



shelby: jack is basically just up on the podium
shelby: double facepalm combos all day
t_ZM: Jack is wasting his August being here.
shelby: every damn year
shelby: for 10 years
shelby: he writes a show called "Futility"
t_ZM: alsdnfkslanfldks
shelby: Movement 4: Why Do I Put Up With This Shit
t_ZM: Movement 1: I Hate Myself And I Want To Die
shelby: Movement 2: Goddamn Kids Won't Stop Smooching Each Other
t_ZM: Movement 3: Eridan Stop Fucking Talking To Me About Your Lovelife
shelby: it is his masterpiece
shelby: Snowman's band is the best in the state




t_ZM: snowman's band are all perfect, somber, sober, brilliant
shelby: they put on shows like... "Dance of The Elements"
t_ZM: yes
t_ZM: yes
t_ZM: their piccolo section never "declares war" on the trumpet section
shelby: they never have an unfortunate sousaphone pileup




shelby: karkat got a concussion and john had to drive him to the ER
t_ZM: lankfdnaslfnsklnfklsnfkl
t_ZM: KARKAT WAS SO CONCUSSED
t_ZM: AND CONVINCED HE MIGHT DIE
t_ZM: all reading out his will to john
t_ZM: and what john had to do
shelby: concussed love confession
shelby: haha what?
t_ZM: lol karkat you are so concussed.
t_ZM: you will regret this when you are not concussed, but i will not tell anyone, i promise.
shelby: akjfhjksdfhsjhsdf yes
shelby: and john stays at the hospital
t_ZM: john totally stays with him the whole time
shelby: because he has to make sure his buddy is alright!
t_ZM: it is his duty
t_ZM: as musical bigcheese.
shelby: JOHN I AM GOING TO DIE
t_ZM: ha ha, you probably won't!
shelby: NO THIS IS THE END FOR ME
shelby: DON'T LET THEM STICK ME WITH A NEEDLE
t_ZM: geez, karkat. they already stuck you with a needle. you have an IV in you.
shelby: WHAT
t_ZM: but i won't let them turn off the machines!
t_ZM: you're too young to die!
t_ZM: don't go into the light, karkat!
shelby: oh god it gets so dramatic
shelby: the next day john tells everyone at school that karkat had a cracked skull and was on life support but he pulled through
t_ZM: adfnadflsknfa
shelby: every year they have a end of the season potluck banquet
shelby: and they give out awards
shelby: they have a few legit awards and then joke awards
shelby: that dave made
t_ZM: all nice legit band awards
t_ZM: and Miss Congeniality
shelby: pfppthahfahh
shelby: all of the parents are scandalized by mr. noir
shelby: the band board gets in fights with him constantly
t_ZM: mr. noir did some
t_ZM: Most Imperceptibly Improved Like Seriously You Can Barely Fucking Tell But Whatever Nice One Kid
t_ZM: (tavros got it)
t_ZM: jack doesn't even call tavros's name
t_ZM: it's just
shelby: lhkjdvhad
shelby: it's just implied
t_ZM: "the big horned weenie who plays triangle"
shelby: djsfjdkfjs
shelby: oH, tHATS ME,
t_ZM: oH wOW,
t_ZM: wELL I NEVER THOUGHT I WOULD BE STANDING HERE, eXCEPT FOR LAST YEAR, wHEN I WON NAME FORGOTTEN THE MOST,
shelby: kid you don't have to make a speech
t_ZM: oH,
t_ZM: i DID PREPARE NOTES, bUT I GUESS I WON'T READ THEM,
shelby: good plan
t_ZM: Show us your tits, pupa!!!!!!!!
shelby: wOW, rUDE,
t_ZM: vriska is convinced one day she will marry that girl in the percussion section
t_ZM: VRISKA, THAT'S A FUCKING GUY.
t_ZM: What8ver!
shelby: shdfkjshsjfhsd
shelby: vriska tries to teach tavros how to play a REAL instrument
shelby: but it doesn't really work ever
shelby: i DON'T REALLY WANT, tO GO TO PRIVATE LESSONS WITH YOU,
t_ZM: she tries to convince him the trumpet is his destiny
shelby: he cannot march on beat
shelby: at all
t_ZM: ever
t_ZM: it drives her demented
t_ZM: she wants to be his sith lord
shelby: Unlimited power!!!!!!!!
t_ZM: vriska why are you even bothering with this kid
t_ZM: john tries to tactfully divert her
t_ZM: because, you know
t_ZM: tavros is doing a good job with the triangle
t_ZM: (he's busy beatboxing with the triangle)
shelby: hajahjkafhafajh


shelby: oh god i just imagined gamzee marching and whacking everyone over the head with his trombone slide
shelby: it is a safety hazard
t_ZM: GAMZEE THINKS EVERYTHING IS A SUICIDE TROMBONE
shelby: ifskjdhajkadh
shelby: Karkat tries to hold a band meeting to discuss this threat to everyone's safety
t_ZM: karkat holds band meetings every day.
shelby: during lunch
shelby: (everyone eats in the band room)
shelby: he just stands on a chair and yells at everyone who is trying to eat


shelby: also another great thing about marchingbandstuck
shelby: at the end of the year
shelby: they go on a disney trip




t_ZM: oh god how much of an unbelievable farce is it
t_ZM: who do they lose
t_ZM: who hooks up tragically
t_ZM: who hurls on the teacups
shelby: they lose gamzee in Toon Town Disney
t_ZM: HE FREAKS
shelby: terezi convinces dave to kiss vriska on the bus
t_ZM: TEREZI MASTERMINDS EVERYONE'S ROMANTIC DOWNFALL
t_ZM: the disney trip devolves into a domino set of everyone's relationships
t_ZM: vriska kisses dave and everyone is disgusted
shelby: yes
shelby: yes
shelby: kar arent these firewworks romantic
t_ZM: aldfnasldfknskaf
t_ZM: lnkadflasndfklsnfkl
t_ZM: eridan has tossed his hair back
t_ZM: and taken his glasses off
t_ZM: for maximum sultry
t_ZM: unfortunately he is nigh on legally blind
t_ZM: and is squinting
shelby: terezi told him that karkat was "TOT4LLY 1NTO H1M"
t_ZM: yes
t_ZM: H3 1S JUST TOO SHY
shelby: ABORT ABORT ABORT




shelby: vriska tries to hijack the peter pan ride
shelby: okay i need to draw something from this AU but i dont even know WHAT
t_ZM: what does your heart tell you
t_ZM: every single beautiful piece of this AU
t_ZM: is like a glorious rainbow
shelby: i just
shelby: it's like a high school AU
shelby: but so much better
t_ZM: on meth
shelby: yes
t_ZM: dude draw
t_ZM: karkat's awful doublecuffed uniform
t_ZM: in purple and gold
shelby: kfgjkhdfgkdhYES
t_ZM: also john looks good in it somehow and so does dave
t_ZM: though
t_ZM: dave looks like a member of the lonely hearts club band
shelby: ajhdadajhdaaaaaa
t_ZM: also equius's uniform had to be made out of TWO UNIFORMS
t_ZM: poor kanaya
shelby: she spends a little too long on rose's drum major uniform
t_ZM: THE THING IS
t_ZM: SHE MADE IT
t_ZM: BACK WHEN ROSE WAS IN COLOR GUARD
shelby: no our drum majors for our SCHIZOPHRENIA show
shelby: had custom made, like guardlike uniforms
shelby: with ROPES ALL OVER THEM
t_ZM: lankdfklsnfksnflwnlknklnsdaf
shelby: so every year they have to make like
shelby: sultry drum major uniforms
t_ZM: john in a sultry drum major uniform
t_ZM: MY BRAIN BREAKS
shelby: it is like, the gayest thing you have ever seen
shelby: but he pulls it off
t_ZM: because bandstuck
t_ZM: is like
t_ZM: JOHN EGBERT HAD MATURED OVER THE SUMMER AU
t_ZM: he misses band camp in summer one year due to having six different kinds of chicken pox
t_ZM: that new semester
t_ZM: it's like Why Do Birds Suddenly Appear
shelby: SHARP INTAKES OF BREATH
shelby: they have horrible white pants
shelby: that show every stain imaginable
t_ZM: YES
t_ZM: KANAYA KEEPS ON HER PERSON
t_ZM: AT ALL TIMES
t_ZM: SPRAY BLEACH
shelby: YES
shelby: AND SHOE POLISH
shelby: this is the worst thin i have ever drawn




t_ZM: HE IS
t_ZM: SO
t_ZM: PISSED
t_ZM: LOOK AT THOSE HUGE CUFFS
t_ZM: GOD THAT NEON PURPLE
t_ZM: JACK WHAT EVEN
shelby: ITS THE SCHOOL COLORS
shelby: if it were up to him theyd be in all black
shelby: looks badass and covers the mistakes
t_ZM: black like his heart
t_ZM: black like his lungs
shelby: yes
shelby: the most successful show they did was called "Midnight" because it was almost normal
shelby: except no one could figure out the part in the middle where they smashed a large amount of clocks right on the field
t_ZM: JACK'S
t_ZM: FAVOURITE
t_ZM: PART
t_ZM: they spent months trawling to find clocks
shelby: parents were getting pissed because he kept asking for clock donations
t_ZM: then the color guard come in dressed in green.
shelby: fake blood packets hidden underneath their clothes
t_ZM: and for some reason the action becomes about stabbing the color guard.





shelby: john and rose's sultry drum major uniforms for the show entitled "STABS"
t_ZM: they look like bondage slaves
shelby: their uniforms always look like 1) bondage slaves or 2) sleazy nightclub workers



shelby: Kanaya is so mad she has to wash out the uniforms every week
t_ZM: jack's all single tearing
t_ZM: every single time
t_ZM: he sees them do that bit
t_ZM: it's fuckin perfect
shelby: for some reason rose gets along really well with jack
shelby: no one knows why
t_ZM: because she is the only really sensible person around
t_ZM: and because she wants the band to succeed
t_ZM: for her GPA
t_ZM: because she will be attending a good college
shelby: also she likes the idea for the Lovecraft show

shelby:
SCANDAL.png
t_ZM:
ARADIA YOU ARE SO CUTE
t_ZM:
EQUIUS SILENTLY, CREEPILY POLISHING
t_ZM:
HIS BARITONE
shelby:
she is probably band treasurer or something
shelby:
yes
t_ZM:
HOW COULD A BARITONE EVER LOVE SOMEONE ON THE MELLOPHONE....
shelby:
D --> It must be spotless
shelby:
D --> I require more polish
t_ZM:
D --> Baritones are the only real dignity of the band
t_ZM:
D --> No, I must polish it more
t_ZM:
nepeta's like "gross, stop sweating"
t_ZM:
dave is always being overfamiliar with aradia
t_ZM:
equius dies
shelby:
D --> The mellophone does not even have a proper concert band equivalent
t_ZM:
D --> What kind of name is "mellophone"
shelby:
geez equius what is your problem with mellophones
t_ZM:
equius is bigoted about all the instruments.
t_ZM:
percussionists can't play.
shelby:
the woodwinds are a disgrace
t_ZM:
flutes are for wusses.
t_ZM:
who on earth takes up the trombone
shelby:
Pyrope should be playing an instrument more suited to her upbringing
t_ZM:
gamzee was with him in baritone class why did he betray him for the trombone
shelby:
it is unforgivable
t_ZM:
hateful
t_ZM:
vriska is on trumpet solely to rub shoulders with the lower band classes
shelby:
he only has respect for the low brass
t_ZM:
so he respects karkat
shelby:
is is so confused, how can vantas play such a noble instrument
t_ZM:
the mighty sousaphone
shelby:
how can his tiny frame even support such a STRONG instrument
t_ZM:
he will have to watch carefully to see if karkat's ignoble frame supports an honourable spirit
t_ZM:
meanwhile it's like
t_ZM:
OUT OF THE WAY, MOTHERFUCKERS, THE SOUSAPHONE IS COMING THROUGH
t_ZM:
KNEEL BEFORE ME
shelby:
dshkajhaaajahahah YES
shelby:
Equius directing brass arc
shelby:
D --> You all must breathe in and out for 30 seconds
t_ZM:
karkat just makes three little irritated puffs
shelby:
D --> I command you to breathe from the diaphragm
t_ZM:
LOOK HE UNDERSTANDS HOW YOU NEED TO TEACH THESE SLIGHTLY TILTBRAINED GENEFAILURES HOW TO BREATHE, BUT CAN HE NOT SPARE A THOUGHT FOR THE PEOPLE WHO KNOW HOW TO WALK AND INHALE AT THE SAME TIME
shelby:
D --> STRONG musicianship starts at the lungs
t_ZM:
karkat's just sitting there going AAAAAARGH
t_ZM:
ragefully breathing
shelby:
he puffs out his cheeks so much when he plays
t_ZM:
he looks like an angry chipmunk
shelby:
youre not supposed to do that
t_ZM:
yes
shelby:
everytime they lose another competition
shelby:
on the bus ride home
shelby:
he just yells at everyone
shelby:
about how they fucked it up
shelby:
he gets really emotional
t_ZM:
Karkat is all writhing around
t_ZM:
counterpoint to him is john
t_ZM:
all we did our best, guys
t_ZM:
we can do better, but we didn't do worse.
WHAT THE GRUBSQUELCHING MORONSHIT DOES THAT EVEN MEAN EGBERT
shhhh karkat. let your sadness come out. deep breaths.
t_ZM:
WE ARE EVEN WORSE THAN THE FUCKING BARBERSHOPPERS!!!
t_ZM:
(barbershop's just the exiles)
shelby:
ahkajfhkdhddshf
t_ZM:
(wq directs them)
t_ZM:
(jack hits on her all the time)
shelby:
o h my g o d
t_ZM:
yeah karkat just yells until he is exhausted from disappointment, then falls asleep and drools on john all the way home
shelby:
every
shelby:
week
shelby:
also john and karkat are in the same chemistry class
shelby:
and every week something blows up
t_ZM:
they do their chem homework together
t_ZM:
after school
t_ZM:
karkat complains loudly about how much of john he's forced to see
t_ZM:
it's like being betrothed to your own cancerous bucktoothed tumour
shelby:
they go out and get second lunch at some fast food place every day before after school band rehearsal
t_ZM:
SECOND LUNCH
shelby:
YES
t_ZM:
ARE THEY HOBBITS
shelby:
YOU CAN'T HAVE MARCHING BAND
shelby:
WITHOUT SECOND LUNCH
t_ZM:
SECOND LUNCH
t_ZM:
SORRY NEW HEADCANON IS THAT JOHN AND KARKAT ARE HUNGRY 10000% OF THE TIME
shelby:
i used to eat four meals a day
shelby:
omg
shelby:
it's so true
shelby:
they just eat like
t_ZM:
karkat needs to feed his anger
t_ZM:
john is a growing boy
shelby:
microwave bagel bites
t_ZM:
they eat dreadful bullshit
shelby:
microwave mac and cheese
t_ZM:
rose is all eating her salad
t_ZM:
they are busy melting velveeta
shelby:
Taco Bell
t_ZM:
eating chilli off frisbees
shelby:
forever
t_ZM:
Why is this the best AU
shelby:
its all encompassing
shelby:
except for you know, serious conflict and emotions
t_ZM:
it's hard being a teenager in marching band
t_ZM:
it's hard and nobody understands
shelby:
though it is a very traumatic experience being in danger of getting whacked over the head with gamzee's trombone
t_ZM:
who HASN'T
t_ZM:
everyone has
t_ZM:
it's like
t_ZM:
you haven't been in band until you've been hit by gamzee
shelby:
ARE YOU NEXT????????
t_ZM:
IT'S LIKE
t_ZM:
MURDERSTUCK
t_ZM:
ONLY
t_ZM:
IT'S IN BAND
shelby:
TROMBONESTUCK
t_ZM:
SO HE KILLED EQUIUS AND NEPETA
t_ZM:
VIOLENTLY IN FIRST YEAR
shelby:
nepeta had a bruise for weeks
shelby:
HE BROKE EQUIUS'S HORN WITH HIS TROMBONE
t_ZM:
YES
shelby:
hjsdfjskfsfd
shelby:
how can he hit with so much FORCE
shelby:
also
shelby:
terezi
shelby:
she loves that shirt
t_ZM:
IT'S THE MOST GODAWFUL SHIRT IN THE UNIVERSE
t_ZM:
IT'S THE LEAST SEXY THING THAT EVER WAS
t_ZM:
it drives dave crazy in ways he cannot quite define
shelby:
and she wears it least once a week
t_ZM:
and every time she does
t_ZM:
he is weak at the knees
shelby:
it makes him skip a beat
shelby:
while drumming
t_ZM:
which is unusual
shelby:
and then she pulls it off and goes around in a sports bra for the rest of the afternoon
shelby:
but its not the same
t_ZM:
no, for some reason it's actually less sensual than the shirt
t_ZM:
people try to complain to jack
t_ZM:
about how his marching band is full of nudists
t_ZM:
he asks them to help him dredge a care from giveafuck bay
shelby:
http://www.vampfangs.com/v/vspfiles/assets/images/mercyreddragon.jpg
t_ZM:
DYING
t_ZM:
DYING
t_ZM:
LOOK AT THAT SHIT
shelby:
LOOK AT HER EXPRESSION
shelby:
http://www.yellowman.com/mm5/graphics/00000001/dragon-storm-horitomo-FL.jpg
shelby:
for the winter months
t_ZM:
OH MY GOD
t_ZM:
LOOK AT THAT
t_ZM:
DAVE CAN'T TAKE HIS FUCKING EYES OFF THAT WRETCHED THING
shelby:
he's standing in the back of the room playing stupid timpani for concert band
shelby:
and she is just wearing that
shelby:
slobbering all over her sax
t_ZM:
she is the most beautiful girl in the world
t_ZM:
CephiedVariable: she has one of these
CephiedVariable:
http://cdn3.iofferphoto.com/img/item/172/080/117/dragon-costume-hat-halloween-cap-gag-crazy-day-tail-new-31f42.jpg
t_ZM:
CV has pointed out
t_ZM:
how she has that
shelby:
omg
shelby:
YES
shelby:
SHE WEARS THAT TO REHEARSAL
t_ZM:
oh my god she found a worse one
t_ZM:
http://www.themouseworks.com/images/HAT-PHOTOS/Dragon/Dragon-Lepard,-purple-and-r.jpg
shelby:
holy
shelby:
shit
shelby:
what
shelby:
is
shelby:
that
shelby:
LEOPARD PRINT
t_ZM:
THE UGLIEST HAT I HAVE EVER SEEN
shelby:
she wears it to school every day winter semester
shelby:
she cut holes in it for her horns
t_ZM:
all you can see is that thing if you're behind her
shelby:
dave has a dora the explorer bookbag
shelby:
Bro got it for him and he was like
shelby:
yes
t_ZM:
yes
t_ZM:
thanks man
t_ZM:
this is perfect
shelby:
http://i.ebayimg.com/20/!B07vDVgCWk~$(KGrHqF,!i0E)r+q!Zv,BMc,hfJSUw~~0_35.JPG
t_ZM:
there he is
t_ZM:
with his little dora the explorer pack
shelby:
true story
shelby:
people actually wore bookbags like that at my school
shelby:
to be cool
t_ZM:
you had the best school
shelby:
MY SCHOOL WAS A WASTELAND
t_ZM:
the best
shelby:
IT WAS INEXPLICABLE
shelby:
one time
shelby:
a guy ran through a glass wall
shelby:
just because he didn't want to slow down
shelby:
there was blood everywhere
t_ZM:
WHAT?
shelby:
i
shelby:
don't know
t_ZM:
I am now pretending Gamzee did this once
shelby:
YES
shelby:
everyone's like woah dude are you okay
shelby:
karkat's walking to english
shelby:
drops of blood on the floor
shelby:
WHAT
shelby:
shattered glass everywhere
t_ZM:
follows the trail to the nurse's office where gamzee is being all bewildered that the "door" was "super crunchy"
shelby:
jhxcvxcvhxc
shelby:
he thought it was a school shooting
t_ZM:
karkat was freaking out and ready to destroy any school shooters
shelby:
somehow
t_ZM:
who have probably come for terezi
t_ZM:
no
t_ZM:
it was just gamzee
shelby:
gamzee is just the cause of so many inexplicable disasters
shelby:
also i totally forgot that
shelby:
one time my friend tricked me into falling off a podium
t_ZM:
gamzee is responsible for most damage done to the rest of the band and school property
t_ZM:
aldnflasnfklasnfklsnfklsn
shelby:
this AU is basically just my life
t_ZM:
IS THIS MAINLY BASED ON
t_ZM:
yes
t_ZM:
shelbystuck
shelby:
yes
shelby:
gamzee is basically just inexplicable tho
shelby:
why is he is even in band
t_ZM:
i think the thing about gamzee is that
t_ZM:
he is a musical savant
t_ZM:
he is just so beautiful when he gets into a certain mode
shelby:
omg
shelby:
yes
t_ZM:
but he got kicked out of concert band
t_ZM:
and shoved over to jack
shelby:
he has a wicked trombone solo
shelby:
while the guard molests eridan with tentacle streamers
shelby:
it's symbolic
t_ZM:
this is the closest eridan gets to sex
shelby:
yes
shelby:
its the best part of the show in his opinion
t_ZM:
he's so good in it
t_ZM:
did you guys film it
t_ZM:
he needs the tape
shelby:
john's dad films every single performance
t_ZM:
he is so proud of all of you
shelby:
he brings snacks at the football games
t_ZM:
he is basically the marching band dad
t_ZM:
and he gets on with jack even though jack hates him
shelby:
yes
shelby:
jack has a begrudging respect for him though
t_ZM:
yes, because the man is indefatigable and tireless
t_ZM:
and brings lots of cake
shelby:
one time he pranked snowman at a competition
t_ZM:
JACK LOVED HIM AFTER THAT
t_ZM:
LOVED HIM SO DEARLY
t_ZM:
NEW BFF
t_ZM:
JOHN KID YOUR DAD'S ALRIGHT BY ME
t_ZM:
john's like dad stop making congratulations on placing fourth cakes!
shelby:
hajkhfhaahajksdh
shelby:
he makes cupcakes for the whole band
shelby:
that is 110 cupcakes
shelby:
that is too many cupcakes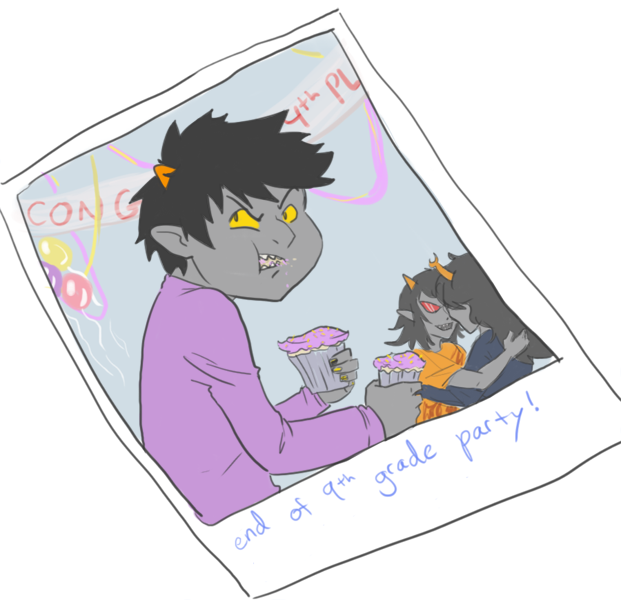 t_ZM:
oh god
t_ZM:
they sit around
t_ZM:
trying to eat
t_ZM:
all these cupcakes
t_ZM:
karkat loves cupcakes
t_ZM:
john does not
shelby:
karkat you have to come over and eat these cupcakes for me
t_ZM:
karkat i am not touching them
t_ZM:
FINE. MORE FOR ME.
shelby:
cupcake sleepover
t_ZM:
john gushes over how cute it was
t_ZM:
he had three cupcakes in his mouth at once it was adorable
t_ZM:
John, this doesn't fit the definition of 'adorable.'
t_ZM:
there was frosting squirting out his teeth
shelby:
that is no one's definition of adorable
shelby:
then he passed out in a cupcake stupor on john's bed
t_ZM:
john took a photo
t_ZM:
and then wrote 'john egbert was here' on karkat's stomach
t_ZM:
john is however a heterosexual!
shelby:
definitely
shelby:
100% straight
t_ZM:
ha ha, a redblooded heterosexual guy in marching band.
t_ZM:
i hate how people think that marching band guys are gay or something.
t_ZM:
egbert they dont think youre gay for being in marching band
t_ZM:
they think youre gay because you have a packet of spongebob bandaids just for karkats use
shelby:
he often needs them!
t_ZM:
he heals better with patrick!
shelby:
our relationship is just like spongebob and patrick, dave!
shelby:
...
t_ZM:
yeah sure absolutely
t_ZM:
John sometimes hoped he would fall for Vriska.
t_ZM:
Vriska's awesome. :(
t_ZM:
And she's hot!
t_ZM:
She is so hot, and he thinks she is so hot.
shelby:
even if she's making out with terezi
t_ZM:
even if!
shelby:
that is... kind of weird! but also hot. i guess.
t_ZM:
yeah.
t_ZM:
it's just that you can see their tongues moving and it kind of looks like that scene in alien.
shelby:
jfkh3rfujdc
t_ZM:
THAT MOVIE IS FUCKING RACIST
shelby:
OFFENSIVE.
shelby:
sorry john you just have to follow your heart
shelby:
let fate decide
t_ZM:
but fate makes him put bandaids on karkat's knees
t_ZM:
despite being heterosexual
shelby:
its not his fault half of the field is actually stupid gravel
shelby:
it stopped being grass a long time ago
shelby:
and karkat keeps tripping over his pants
t_ZM:
and saving the sousaphone
t_ZM:
but sacrificing his knees
t_ZM:
kanaya is a little perturbed
t_ZM:
band-aiding karkat up is sort of her provision
shelby:
yeah that's usually her job what's going on
t_ZM:
and after john becomes devastatingly handsome it is not like he is hard up for people wanting to date him
t_ZM:
though then again anyone outside marching band does not understand marching band
shelby:
yeah you basically cannot date outside of marching band
shelby:
everyone assumes that john and rose are going to get together
shelby:
they spend so much time together since they're the drum majors
t_ZM:
yes, they spend so much time together
t_ZM:
they are ti'ight
t_ZM:
she is his right hand
t_ZM:
and the power behind the throne
t_ZM:
as he falls off podiums and friendleads
shelby:
everyone actually just watches her when they preform
shelby:
she is usually on tempo
t_ZM:
it's the safe option
shelby:
terezi runs into people on purpose
shelby:
and when they complain shes like HOW COULD YOU S4Y TH4T TO 4 BL1ND G1RL
t_ZM:
WOW MY H34RT 1S BR34K1NG
shelby:
SOM3T1M3S 1T 1S H4RD TO SM3LL TH3 DRUM M4JORS
t_ZM:
3XC3PT FOR D4V3 >:]
t_ZM:
YOU SM3LL SO GOOD D4V3
yeah thats axe spray
shelby:
oh god
shelby:
no dave no
t_ZM:
he wears it ironically
t_ZM:
also you know equius is one of those guys who wears way too much deoderant
shelby:
yes
t_ZM:
dave thought he was so ironically cool with his dora bag
t_ZM:
and his axe spray
t_ZM:
and then terezi comes in with her dragon shirt and her dragon hat and he just can't even take it
t_ZM:
the world's coolest girl
shelby:
she's not even doing it ironically how does she do it
shelby:
its unfair
shelby:
oh my god its 3 am
shelby:
what am i doing with my life..........
NOBODY KNOWS, SHELBY.
NOBODY KNOWS.
DVD COMMENTARY WITH TV'S OWN CEPHIEDVARIABLE
.
CV:
t_ZM:
"so i ship marchingband john and karkat"
t_ZM:
"maybe shelby doesn't...."
shelby:
why would i
shelby:
not
CV:
WHY WOULD SHE NOT
tZM:
I HAVE THIS BELIEF!!!!!
CV:
THAT THE ONLY PERSON MORE INFAMOUS FOR SHIPPING JOHN/KARKAT THAN YOU
CV:
WOULD SOMEHOW
CV:
NOT ENTER THIS AU
CV:
ASSUMING
CV:
JOHN/KARKAT
t_ZM:
MAYBE SHE HAD SUDDENLY DECIDED IT WAS NOT COOL!!!
CV:
RIGHT THEN
CV:
AT THAT EXACT MOMENT!!!
CV:
LITERALLY THREE SECONDS BEFORE YOU SUGGEST IT
CV:
SOMETHING IN CHANGES IN THE AIR
t_ZM:
SHE HADN'T MENTIONED IT PREVIOUSLY MAYBE IT WOULD HAVE BEEN EGREGIOUS
CV:
AND YOU CAN FEEL IT IN THE AIR TONIGHT
IN SUMMARY.
CV:
okay you know what this AU is?
CV:
Glee if it were awesome