So I have been a little remiss in not swagging up the final post of Marchingstuck: mainly because so much of Marchingstuck is now a tenderly added-to universe with a bunch of hilarious funny contributors and you can find them all on Tumblr, a place I refuse to go to because then I'd never get any work done again.* This post will serve as the very ersatz "final post" right up until like three weeks later when I am sure Shelby and I will talk about it again.

Until then I must ask you to emphatically follow:

PROMSTUCK: the fanadventure of Marchingstuck's Senior Prom (in progress, written by me and Ceph, illustrated by Shelby)
FUCK YEAH MARCHINGSTUCK: the nice repository for anything and everything Marchingstuck

Marchingstuck, twice as many calories as other -stucks.

*i never get any work done anyway




tZM: please tell me that by the end of prom night feferi and eridan do one huge embarrassing dance together as bff
all set to EVERYBODY DANCE NOW
shelby: DUN
shelby: DUN
shelby: DUNDUNDUNDUN
tZM: DUN DUN DUN DUN!!!
tZM: DUN DUN DUN EVERYBODY DANCE NOW
shelby: EVVERYBODY DANCE NOWW
tZM: Neither can dance.
tZM: They're all whipping their hair back and forth.
shelby: so eridan has a fun time at prom after all
tZM: yes
shelby: because he is the dancing queen
shelby: young and swweet only sevventeen
tZM: and because people abandon the dance floor when he and feferi are there

shelby: oh my GOD
shelby: every time they get something accomplished
shelby: victory dance
tZM: yes
shelby: it is not often they get things accomplished but ok
tZM: When they do
tZM: They are ready
shelby: it's like that weirdass dance johnny depp does in alice in wonderland
tZM: And it creeps everyone out utterly.
tZM: OR THEY JUST DO THE LIKE
tZM: PEANUT BUTTER JELLY DANCE, SHELBY.
shelby: dfidsofhsfdkjgftydf
tZM: IN UNISON.
shelby: OH MY GOD
shelby: will i get kicked out of fandom if i animate that
tZM: no
shelby: it will make utterly no sense to anyone
tZM: Neither does Marchingstuck




shelby: KARKAT'S FACE
shelby: karkat that is the worst smile i have ever seen
tZM: karkat's wrist corsage
tZM: he doesn't even have
tZM: a boutonniere
shelby: i know
shelby: IT'S BEAUTIFUL
shelby: the guy at the flower store just gave john that
shelby: and he was like oh whatever!
shelby: i'm sure it will still look beautiful!
tZM: and he's so proud
tZM: and karkat so doesn't want to wear it
shelby: but somehow he ends up wearing it anyways for like an hour
shelby: later he throws it on the ground
shelby: IN A RAGE
tZM: this is a FAKE corsage
tZM: given to him by a FAKE friend who is NEVER GOING TO BE ANYTHING BUT a FRIEND and a FAKE DATE
tZM: eridan's all ooh it has tiny rosebuds
shelby: can i have it kar
tZM: just so i can pretend for a feww moments someone lovved me
shelby: karkat's like NO I'M BUSY DOING THAT
tZM: oh kar its okay
you get used to the idea that youre gonna die roeful and alone
BLUUUUUUUUUUUUUUH
shelby: ldskjfhsfkf
shelby: the self pity spiral
shelby: they are trapped

tZM: Does Karkat at any point go and angrily dance with everybody but John.
shelby: yes he angrily dances with like
shelby: feferi
tZM: It is a slow dance. He is angrily pillowing his head on her bosom.
She is like o)( no, boy troubles!
I DO NOT HAVE BOY TROU
give your heart to gl'bgolyb
shelby: feferi you always know just what to say
tZM: every single time
tZM: she is a powerhouse
tZM: of knowing exactly what to say
tZM: Karkat spends the rest of that dance on her bosom with really wide, horrified eyes
shelby: trying to signal Kanaya
shelby: via telepathy
shelby: and then she says something unnerving
tZM: like GIV---E INTO YOUR D----ESPAIR!
shelby: We're all going to die ANYWAYS!
shelby: kjhfkjsdhfs
tZM: )(A )(A )(A!!!
tZM: Karkat goes and weeps on Jade instead.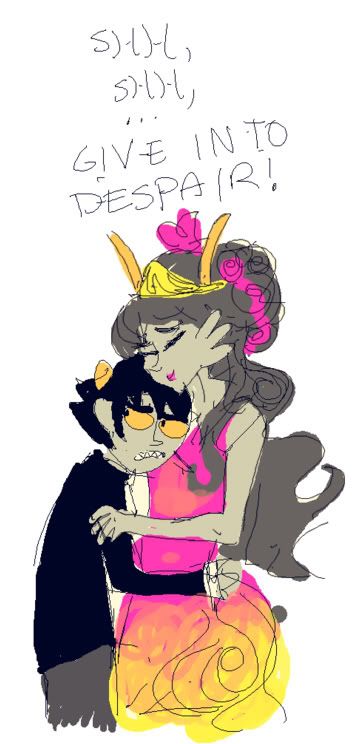 tZM: do you think Kanaya, Rose, John and Karkat are all eventually at the same waffle house after prom
shelby: awkward
tZM: everybody's at the waffle house
shelby: except dave and terezi they are too cool for waffle house
shelby: they go to IHOP
tZM: look dave and terezi were at IHOP HOURS ago they were so on the ball with this shit
tZM: now they're sitting at home with a bunch of pregnancy tests Dave has taken, playing Mad Snacks Yo
shelby: terezi im pregnant
tZM: TH4T 1S SO N1C3
tZM: 1 4M BR34K1NG UP W1TH YOU
shelby: leaving him out on the streets
tZM: no tz im giving birth as we speak
tZM: would you look at that
shelby: the baby is you
tZM: yeah also i gave birth to this packet of twizzlers i was saving for you
tZM: HOOR4Y W3 4R3 D4T1NG 4G41N

shelby: when did they even start dating
shelby: do they even know
tZM: i'm not sure
tZM: remember how she proposed
tZM: maybe that was the start
shelby: dave was just like okay
tZM: welp
shelby: this is after they hooked up at the scandalous band party
shelby: now karkat has a powerpoint of why proposals during band practice should be banned
tZM: yes, the one everyone is utterly disgusted at
tZM: the cheerleaders do not like how this has panned out
shelby: it's like a disney channel movie
tZM: exactly
shelby: it's like high school musical
shelby: how could HE be with HER
tZM: They discuss and figure that maybe when you take her glasses off, give her a makeover and put her in a dress she is drop-dead gorgeous
tZM: It turns out when you take her glasses off, give her a makeover and put her in a dress, she is still Terezi.
shelby: skdfhjsdfhdf
shelby: when you take her glasses off she just has creepy red eyes that stare into your soul
tZM: dave is like godDAMN
tZM: this is terrifying
tZM: kiss me

tZM: also, dating dave does not stop terezi from making out with vriska at every photo opportunity
shelby: oh of course not
shelby: they make it into the yearbook
shelby: in the background of every club photo
tZM: even clubs they're not in
shelby: yes
shelby: like
shelby: gardening club

shelby: oh my GOD my friend just posted AIM logs from middle school
tZM: how amazing are they
shelby: Cindy: u just broke my heart. really. u did. and now all u can say is idk
Cindy: i do still like u
Cindy: even if u just broke my heart i still like u
shelby: Cindy: u will kiss her i just know it
Bob: no I won't
Cindy: yes u will
Bob: dUdE ur gunna b my first kiss
Bob: stop stressin
Cindy: but Bob what if yall dont break up.do u still plan on me to wait
for u
Cindy: Bob! -im not a dude- i just have a gut feeling yall will kiss
Bob: no, but we will break up, idk when but we will
Cindy: i cant wait 4ever
tZM: abeofaweibfasieooooooooooooooobadlsfknnnnnnnnnlbnoweb
shelby: I DO STILL LIKE U. EVEN IF U JUST BROKE MY HEART I STILL LIKE U.
tZM: U WILL KISS HER I JUST KNOW IT
tZM: NO 1 WONT
shelby: STOP STR3SS1N.
tZM: DUD3 UR GONN4 B MY F1RST K1SS
shelby: I CAN'T WAIT 4EVER!!





shelby: WOO GO ASS PIRATES! love you too karkat! <3
shelby: what is slick's face
tZM: i
tZM: don't
tZM: know?
tZM: somebody has put LSD in his whiskey
shelby: dskjfhsdskdf
tZM: OR THEY'RE AT THE SECTIONALS
tZM: HE'S HAPPY FOR THE FIRST TIME
tZM: BUT ALSO READY TO COMMIT SUICIDE
shelby: skdjfhjsfhsdjf
shelby: Tavros gathering the courage to play the triangle
tZM: rUFIO, DON'T DESERT HIM,
tZM: oh god by the time the sectionals come
tZM: john and karkat are together
shelby: yes
tZM: so in john's pep speech to everyone
tZM: there's like a bunch of PSes
tZM: about how he wouldn't have been able to do this without karkat who is now his boyfriend hi karkat karkat is his boyfriend, did people know
tZM: about his boyfriend, karkat
tZM: they are going steady
shelby: and they are in love
tZM: yes, he wants to admit that before you all
tZM: that they are in love
shelby: everyone is like oh my god we know who karkat is
tZM: we know who karkat is and we know you are in love because you give this fucking speech every lunchtime
shelby: slick is just like
shelby: shut the fuck up and let lalonde do the speech
tZM: Rose is just like, Horrorterrors preserve us, screw your courages to the sticking place, and Terezi, take the ammunition out of your pockets. Godspeed.
shelby: bdfmbs,dmnsfbfd
shelby: PS SHOUTOUT TO MY BOYFRIEND KARKAT!!!! in the background
tZM: Also, "shoutout" to "my boyfriend", "Karkat."
LALONDE I AM NOT YOUR BOYFRIEND



tZM: Jade is way overly interested in their relationship
shelby: good for her she's going to hear a lot about it
tZM: unfortunately this is jade
tZM: karkat's all AND THEN WE LAY IN BED AND IT WAS SO AWKWARD AND I WAS LIKE IS ANYTHING GOING TO HAPPEN
jade's all ...... and then you boned! :c
AND THEN OH MY GOD HARLEY
shelby: well did you?????????
tZM: WELL UH
was it totally amazing?????????????
shelby: karkat you are now a man!!!!!!!!
tZM: she has this dramatic pause
tZM: before
tZM: A MAN
shelby: dfjsdhfsf
tZM: i am sooooooooo proud of you!!
tZM: you have totally............ porked!
shelby: YEAH SURE
tZM: JADE, YOU ARE SO WEIRD
tZM: then they hug
shelby: and they go out to lunch at taco bell
tZM: second lunch
shelby: yes
shelby: and then they have band rehearsal and jade keeps winking at them
tZM: really overtly
tZM: and ineptly
tZM: john's like why is jade blinking like that??
tZM: haha, this must be a blinking game.
tZM: blink blink blink!
shelby: dsfjslfdfj
shelby: is she trying to signal us?? did you guys make up a code without me?

tZM: so the question is do they win the sectionals, or does the Marchingstuck canon end on that question
tZM: because Marchingstuck is secretly an 80s film
shelby: they get fourth place
tZM: aldknsal
tZM: asldfnaslfnwaponeapf
tZM: nwkenalfnds
shelby: and then they go to a burger place
shelby: and everyone is like
shelby: well we tried!
tZM: and sing We Are The Champions
shelby: the end
tZM: The End
shelby: THE WINNER TAKES ALL
tZM: YES
shelby: IT'S THE THRILL OF ONE MORE KILL
tZM: and then credits roll
shelby: THE LAST ONE TO FALL
tZM: NEVER SACRIFICE THEIR WILL
shelby: BUM BUM BUM BUM
shelby: it's the end of the spongebob episode
shelby: except instead of the freezeframe of squidward leaping for joy
shelby: it's jack facepalming
tZM: yes
tZM: also all of the "what they got up to" in the montage is really stupid
tZM: TEREZI AND VRISKA MADE OUT IN FRONT OF THE BURGER KING DRINKS MACHINE.
NOBODY WAS ABLE TO GET ANY SODA REFILLS.
shelby: jhdfkhsjdfhsdfh
tZM: DAVE AND TEREZI WENT ON TO GET MARRIED.
IN THE BURGER KING
HE HAD A DRESS MADE OUT OF TOILET PAPER
tZM: IT WAS ACTUALLY PRETTY GOOD. KANAYA DID IT
shelby: jack walked dave down the aisle
shelby: vriska was playing taps
shelby: john and karkat went on to see "how many fries they could stuff into each other's mouths!"


THE END

... OR IS IT?